FOR SALE Sansia J SOLD
Friesian cross mare (broken in but turned out since so will need restarting)
12 year old, Height 16 1/2 hh (unofficial) Black (no white markings)
Located at Penna 30 minutes East of Hobart
Registered AFWHS 'Sansia J'
Eye catching horse with nice movement. Everyone loves this horse.
VIDEOS AT https://www.dropbox.com/sh/2hff0f375b1xec1/AABSmjif-Uv683QpB9Dt3JPea?dl=0
Quality mare with excellent bloodlines.
Sire: Eitsje (Remmelt 323 x Ulrika) (Friesian) bred by Black Minx stud. http://members.iinet.net.au/~blackminx/memorials.html
Dam: Springfield Sportsgirl (3/4 TB, 1/4 Connemara, registered Connemara Sporthorse)
Pedigree online at http://www.allbreedpedigree.com/sansia+j
Photo above 2018. Photo below being broken under saddle by Ian Leighton 2012 By Liz Leighton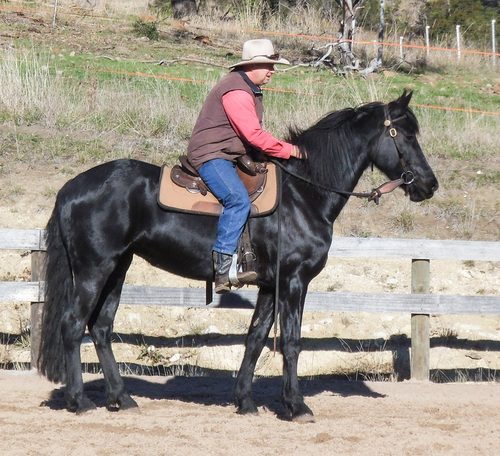 Confident forward moving horse. Not lazy but not reactive, tries to please. Sweet nature and excellent to handle. Smart horse and does have her own opinions. Should suit dressage or jumping. Nice overstep in walk and nice extension. Half-sister (same dam) to SPRINGFIELD FERGUS (2* eventing, elementary dressage). I suppose she will not have the stamina for higher level eventing due to her Friesian blood.
First to be caught, loves to see what is going on. If you are tacking up another horse she will stick her hoof on the gate and rattle it. She will try to get the attention of horses in adjoining paddocks by neighing, running around and twanging the fence wire with her hoof. I realise this is not a good selling point but you need to know.
Bred by seller. Imprinted at birth. Handled daily for the first 6 weeks (taught to give to pressure) then turned out on the lush grass of the NW Tassie coast to mature. Has done Parelli groundwork, leads, ties solid (no need for twine), lunges, long reins, Steve Brady groundwork.
Taken to two led breed shows, calm when out.
2009 AHAA Baroque Horse Tasmanian State Show Champion Junior Friesian Warmblood
2011 AHAA Baroque Horse Tasmanian State Show. 1st Lunging 4 years and under 6 years. State Champion Friesian Warmblood
Started under saddle 2012 by Ian Leighton and turned out. No issues at all being broken in, see photos at http://wilem.freeservers.com/Sansiaphotos.html I have started to work her again just groundwork (lunging).
This is the horse that lent over the fence and clipped the front of her rug to the fence then stood there until I came to rescue her. I don't know how long she was there as it was dark. She got tangled in some wire washed down the creek last year and stood still waiting to be rescued. Small scar from this incident.
Had an umbilical hernia as a foal, repaired with surgery. As a young horse had a severe hoof abscess to off/right fore requiring veterinary treatment and months of recovery. Hoof protected with shoof boot (best thing ever) during this time. Flared up again the following year. Hoof appears to have grown out normal and no further recurrence.
Good to worm, to have teeth done, wash and have feet trimmed (I have not had to shoe or clip her).
Good to float (if you go too fast around a corner she might kick out, I haven't floated her recently). Hopefully will improve with more experience.
I should mention the dog thing. When she was a foal she used to play with next door's Rottweiler. She is a lot bigger now but still wants to play with dogs. I've seen her chase them and rear up, giving the doggy owners heart failure. I don't think she would deliberately hurt them but I can't guarantee this. Fine with chooks.
Experienced rider please. Horse has no vices but is very smart and also green.
For sale due to no fault of her own. I kept her so long because she is so lovely but I have lost interest and am getting out of horses. I had planned to get a few months training into her before moving her on (hahahahahahahahaha) but this isn't going to work out so open to offers based on current stage of training.
Sound and drug free. Always supplemented. Vet check welcome.
Price $5,500 negotiable. Jill Aschman 0408770187 txt or pm via Facebook
7 Sep 2018